While it is important to spend plenty of time getting to know and connecting with your host family, local community and colleagues, exploring your placement country is also a great part of your adventure!
Spend a bit of time doing research before departing about what highlights your new country has to offer. And once you have landed, check with trusted friends to get the real inside scoop.
To help in the process we have compiled some of Lattitude's top picks for must sees and dos in Ghana:
1) Kakum National Park
For Lattitude Volunteers looking for a weekend away from the city, Kakum National Park is a great option. While it can be costly to stay near the park itself, it can easily be visited as a day trip from Cape Coast. Kakum National Park is home to at least 300 bird species and at least 600 butterfly species, and features incredible views from the tree top canopy walk!
2) Elmina and Cape Coast Castles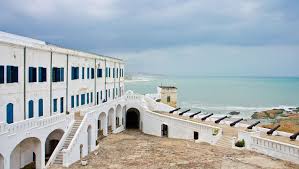 These castles are each significant historical sights of Ghana. Elmina Castles was first established as a trade settlement and later became a part of the slave trade. Today it is a World Heritage Site. Cape Coast Castle was originally constructed for timber and gold trade, and later became a significant "slave castle", one of 40 along the coast of West Africa. Both castles today are museums open to the public; visiting them (or at least one) is an important way to understand the history on Ghana.
3) Mole National Park
For those with more time, Mole National Park is truly a must-see. While the journey can be long from the Coast, it is worth witnessing the changing landscape from tropic to desert as you travel North, and the vast landscape and roaming animals once you arrive. You are sure to see baboons (watch out for your laundry being snatched if hanging outside!), elephants, warthogs and vultures, and, if you are lucky, maybe a leopard!
4) Kwame Nkrumah Mausoleum
While visiting the capital city, Accra, don't miss this mausoleum and memorial park dedicated to Dr Kwame Nkrumah - Ghana's first prime minister and president. Most notably R. Nkrumah lead the region to independence from Britain in 1957. The building today is a site to see!