Orientation in Christchurch
I was one of the first to arrive in Christchurch. There was a group of us that had met as Dave collected us from the airport, 3 English and 2 Canadian. The journey from the airport to the hostel accommodation was stress free, Dave made us all feel at ease and encouraged us to communicate with each other.
After everybody had arrived (35 Germans, 4 British, 2 Canadian, 1 American and 1 Italian), we had some 'downtime' with our assigned room mates. This was helpful as we were placed with others that were in the area local to your school. We are still in contact with and go on outings at weekends and celebrate birthdays together.
The next few days were organised and ran by Sharyn and Dave, which entailed: sightseeing in Christchurch; a school 'orientation', and a Maori culture experience. Within this we were put into groups that the people we were with were the people closest to us. This is really important as at times you feel completely isolated and knowing there's people around in the same situation makes the whole experience more enjoyable.
After departing to our schools, one of the people within the group made a map of how far everybody was from each other which was helpful, especially during travelling during the holidays.
Settling into the school
From Christchurch I had to fly to Wellington, which was an interesting experience as the plane is tiny and had propellers! At Wellington airport I was met by my tutor Karen; because my school and the girls who I had shared a room with schools were so close, my tutors also collected them from the airport.
Due to the fact my placement school also acquire another tutor from Ulster University we had a few hours to waste until her plane arrived, so we ventured to the Te Papa museum.
We arrived at school about 8pm Sunday evening and started work 9am the next morning. The first few days included setting up a bank account, organising pay, setting up an IRD number and getting a SIM card and getting basics for the house; body wash, breakfast etc as most things are provided by the school kitchen.
Building a good relationship with other tutors you may be with is vital as typically they will be your housemate, travel companion and your best friend for the year. You will cry with them, laugh with them and hopefully enjoy being with them. In my case me and the other tutor bought a car together and planned a two-week travel together for the first set of holidays in October, however she is heading home for Christmas else we would have traveled together then too as well. Similarly we had plans to travel in the April holidays however I stumbled upon a trip to Australia to see family so we will be travelling separately then too. Without these implications we would have definitely traveled together for the whole time. It is so important to both of us that we have each other, especially when it comes to home sickness!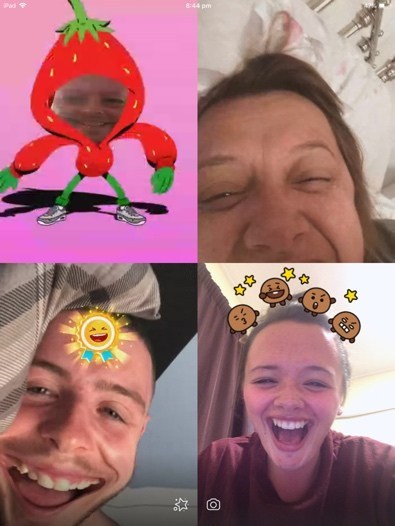 Home sickness: something I dreaded. Back home, my family (mom, dad and a brother) and I are all super close. Saying goodbye at the airport was one of the hardest things I have ever had to do. However it is easier than I ever thought. Thanks to technology such as FaceTime, Skype and Facebook video call it is easy to stay in contact with loved ones.
Tip: look into the price of a 3 mobile SIM with international usage. This made it a lot easier to contact home too because I could constantly text or call if I wanted too. However I don't use it that much, but it's nice to know it's there.
My First Term
The first few weeks are really used to 'settle in' to your new job, accommodation, surroundings etc. Things may seem slightly boring and repetitive but at the same time slightly challenging but it get easier and more interesting. One thing I really struggled with was the fact the town I'm located in is made up of 3 lots of 3 parallel streets which all looked so similar, especially when taking girls too and from activities.
Before I could take girls out by myself I had to take a defensive driving course which was organise and paid for by the school to ensure my driving was sensible and safe. I also was given the opportunity to part take in a 2 day first aid course ran by New Zealand Red Cross so is transferable on return to England.
In the first few weekends it's good to explore the local area (ideally alongside other gappies). From my school we have two beaches about an hour and a half away that are even a beautiful spot even in chilly weather. However from talking to other gappies, it's hard to travel just for one day/ the weekend ; especially in the South Island. New Zealand has the same population as London alone so roads and transport aren't as well developed as you may assume. For instance our local train station has one train out into the local city (8am) a day and one return (9pm). So bare this in mind when making plans before you come.
First School Holiday (October)
As me and Naomi (the other tutor at my school) were located in the North island we decided to travel around there. We booked hostels early to get a good price and planned our route. Hostels cost $400 each-for the two weeks which is only £200. Our itinerary included:

My Second Term
Term two is a little easier, you've found your feet and settled in. At my school the girls move bedrooms each term to ensure each girl has an opportunity in the different style room. First day back is chaos. You think you've finally got to grips where everybody's room is and where people congregate in free time… well that all changed. But soon enough you're into the swing of things and it feels like you've never been away.
The temperatures are hotter and everybody is excited for summer… and Christmas. Which seems odd, being excited for the two things at the same time, singing carols in the sun in November. Something to get your head around. The girls are getting excited for their summer holidays and where they're going to travel; Australia, Bali, Fiji, German, England, Vietnam.
This is the time in which events such a prize giving takes place, the whole school gets glammed up and are ready to receive the awards they earned from the exams they say earlier in the term. We have year 11's on study leave in this period, but some choose to stay in the boarding house and there is a better environment ,less distractions and teachers are never too far away.
This term you may gain some more responsibilities, so just as of simply helping out in my science class, I now get to teach twice a week, I run the library if the librarian is away and most teachers know who you are now so will more than likely ask for help.
Only a six week term this one, Christmas approaches fast and it's soon time to travel, or head home if that's what the plan is. But make sure you make the most of your adventures over the Christmas holidays as it's two months off in the middle of summer!
Christmas Holiday
Tip: get booked with your hostels and events! This is the busiest time of year here in New Zealand for tourism, not only of people on holidays but Kiwi's travelling themselves. It's easy to forget and leave things till last minute but you might not to get to do what you want or even see the places you want to see.